DeNaples Auto Parts, located in Dunmore Pennsylvania, is a family business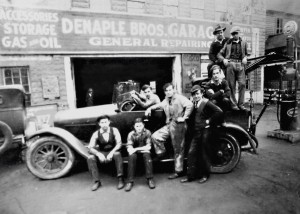 in the truest sense of the word. What Patrick DeNaples began as an extra enterprise to help make ends meet during the Depression, has become, physically, one of the largest dismantling and recycling centers in the world, serving customers across the entire country.
Our current stock includes a wide variety of used and reconditioned automobile parts, both foreign and domestic. We also specialize in standard and heavy-duty trucks and equipment. Great savings are realized on all used or reconditioned factory parts.
In addition to auto and truck parts, DeNaples also pays the highest prices for your scrap ferrous and non-ferrous metals. We can provide free rolloff container service, including open-top trailers for bulk scrap or steel demolition.